We add value to your business.
20 Strovolos Ave. 2011,
Nicosia, Cyprus
T:
 +357 22 710 000
The G.A.P. Vassilopoulos Group's name is an acronym from the names of the three brothers George, Aris and Petros Vassilopoulos. The three brothers are the successors of Andreas Vassilopoulos, a natural born innovator and an engineer by profession, who started afresh after World War II, creating a new industry in the Cyprus market.
With his own worldwide-patented materials, he thrived in his field and established the basis for the future development of the family business.
The business was multifaceted with activities in the Neon Sign Manufacturing, Real Estate Investments in Cyprus and the UK, Agriculture, Advertising, Quarry Crushing Plants, Dredging Operations and Cloud Seeding Services.
Despite being an engineer with a multifaceted business organization, his vivid memories of his grandfather's businesses were always troubling his mind. His grandfather, G.P.L. Mavroidi (1846-1937), was a prominent Cyprus businessman. His business organization with activities in Cyprus and Egypt, was involved in General Trading, Petrol & Oil trading, Insurance, Banking and Shipping Agency activities.
The business included many renowned international representations such as Lever Brothers, Peugeot, General Motors, Dunlop, Columbia records, Vacuum Oil Company, Alliance Insurance, The New York Life Insurance, Khedivial Shipping Line, Egypt Levant Lines, Royal Netherlands Steamship.
The shipping business was however the one that Andreas Vassilopoulos was dreaming to get involved in and this was materialized by his sons who launched themselves into the Cypriot business market, by creating their first business venture using the trade name of G.A.P. Vassilopoulos Group. The initial venture, Freight Forwarding, was soon to become a Shipping Agency by representing in Cyprus, the United States Lines; the largest container line at the time. Rapid growth followed and year after year new services were introduced, creating a total service organisation.
The vision was to serve the commercial community by providing many interrelated services under one roof, as a one-stop shop.
Through continual growth, the G.A.P. Vassilopoulos Group now ranks amongst the top 25 organizations in Cyprus with operations in Cyprus, Greece, UK, Ireland, Germany, Netherlands, Belgium, Luxemburg, Malta and Israel.
Despite its prominent position and size, the Group being only a service provider, has retained its neutrality, an attribute that comforts and attracts its commercial customers. Growth and addition of new services are the core elements of the G.A.P. Vassilopoulos Group's DNA.
The organization continues to grow within the prevailing world economic environment, having laid solid foundations insuring a bright future ahead.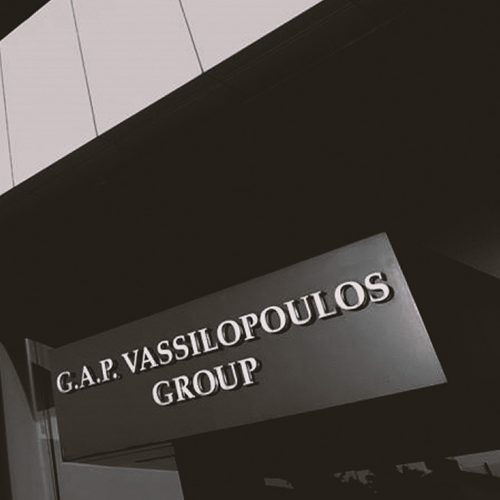 EXECUTIVE BOARD OF DIRECTORS
1964-1985
Neon Sign Manufacturing
Real Estate Investments in Cyprus and the UK
Agriculture
Advertising
Quarry Crushing Plants
Dredging Operations
Cloud Seeding Services
1985-1995
Merzario Lines

Sealand Lines

United States Lines

Multiport Ships Agencies Network

General Accident Insurance

Navigation Maritime Bulgare

DB Shenker

Baltic Shipping

MISC

Adria Airways

Kuwait Airways

ClubMed

FedEx

Sarlis Container Lines

Americana Hotel, London

1995-2005
Ecclesiastical Insurance

Virgin Atlantic

CMB Lines

Western Union, Cyprus

Cyprus Stock Exchange Listing

Aeroflot Airlines

Rossiya Airlines

Baltic Shipping, Greece

Ecclesiastical, Greece

Wellington Syndicate

2005-2010
Swissport

Atradius Insurance

Brit Insurance PLC

XL Catlin Insurance

IMG Medical Group

BMS Insurance

Lloyd's Insurance

Transaero Airlines

Aerosvit Airlines

AirGo Airlines

Jet2.com Airlines

Norwegian Airlines

GAP Money Transfer UK

2010-2015
Talanton Merchandising

Retail e-Link

Leisure Cargo

GAP Money Transfer Israel

WU Business Solutions, Cyprus

EL AL Cargo

Tarom Airlines

OSL

GAP Money Transfer Netherlands

GAP Money Transfer Luxembourg

GAP Money Transfer Belgium

2015-2020
Dubai Ports World

P&O Maritime Services

Western Union Germany

Western Union Ireland

UPS

Euler Hermes

EL AL Cargo

Gulf Air Airlines

Bridges Worldwide

Worldline | SIX Payment Services

Boomertel

Fetch